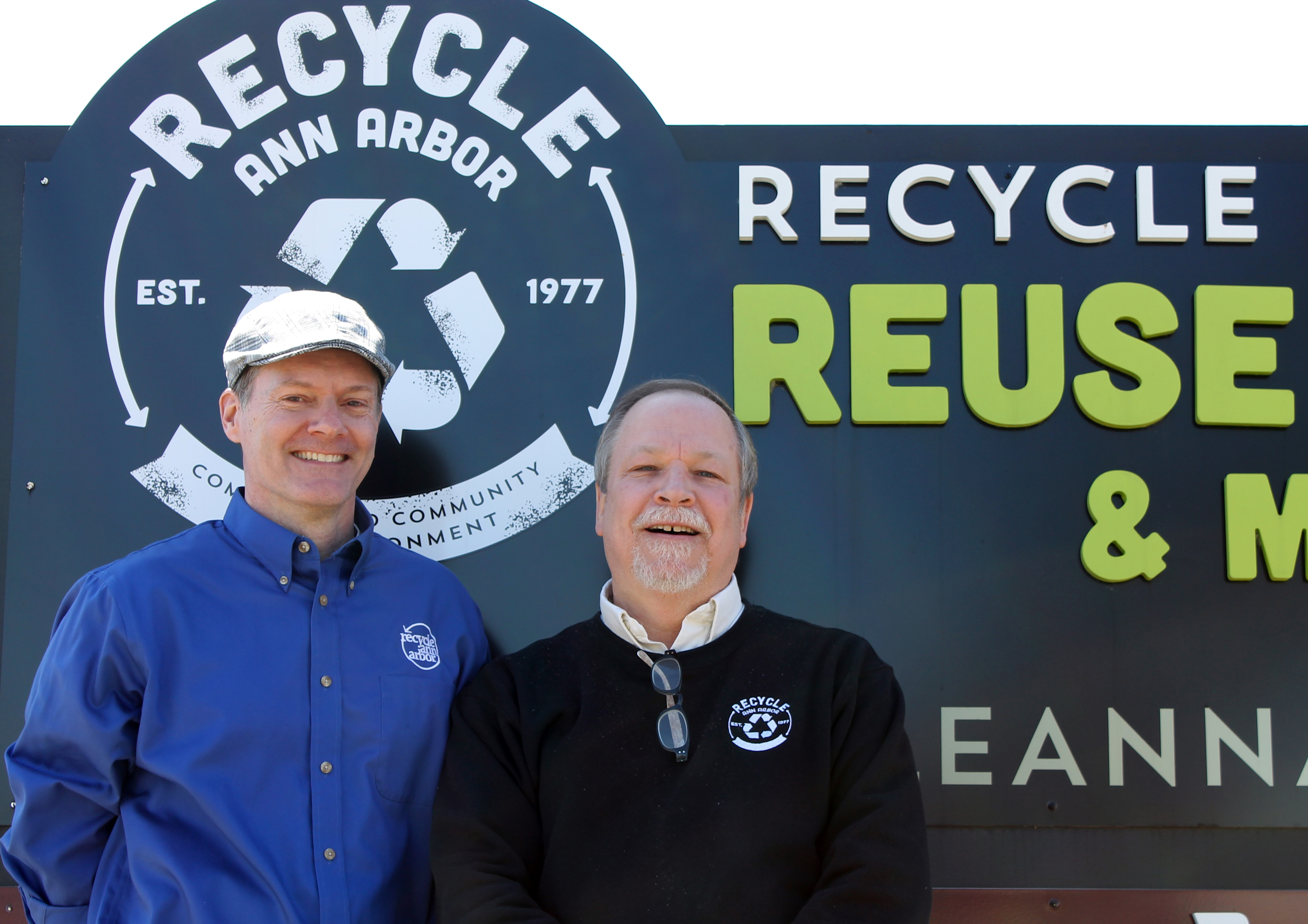 Changing of the Guard at Recycle Ann Arbor
A grateful farewell to CEO Kirk Lignell and "welcome back" to interim CEO Bryan Weinert

After six years at the helm, Recycle Ann Arbor CEO Kirk Lignell will be stepping down from his position in April. We are sad to see Lignell go but wish him well in his new pursuits with a fast-growing Dexter-based company, Valicor. Lignell will continue to be involved with ongoing RAA projects, and we look forward to working with him as RAA moves into an exciting future.
Lignell joined RAA as interim CEO in 2011 and was appointed to the permanent position the following year. During his time as CEO, he restored the organization's financial health and helped reinvigorate its core mission of creating and running innovative recycling programs. He steered RAA through a period of rapid external change, most notably as the City of Ann Arbor closed its materials recovery facility. RAA now manages the processing of City recyclables, alongside its curbside collection, Drop-Off Station, Reuse Center, and Recovery Yard programs.
The Board of Directors has appointed Bryan Weinert to serve as Interim CEO, prior to launching a nationwide search for a new CEO. Weinert currently works at RAA as the Director of Strategy and has deep roots and a long history at Recycle Ann Arbor, and in the recycling movement.
Weinert ran Recycle Ann Arbor for four years in the 1980s when it was a program of the Ecology Center, spent most of his career as the City of Ann Arbor's Recycling Manager, and served as a past president of the Michigan Recycling Coalition. Weinert is an inspirational zero waste advocate who exudes his passion for recycling at a contagious level. He is also an active community member, serving on the Boards of Directors of the Interfaith Roundtable of Washtenaw County, and highly involved with the Washtenaw Refugee Welcome. He and his family are active members of Zion Lutheran Church. Recycle Ann Arbor was fortunate to hire him part-time out of retirement five years ago and appreciates that his new role will leave him less time for his three grandkids.