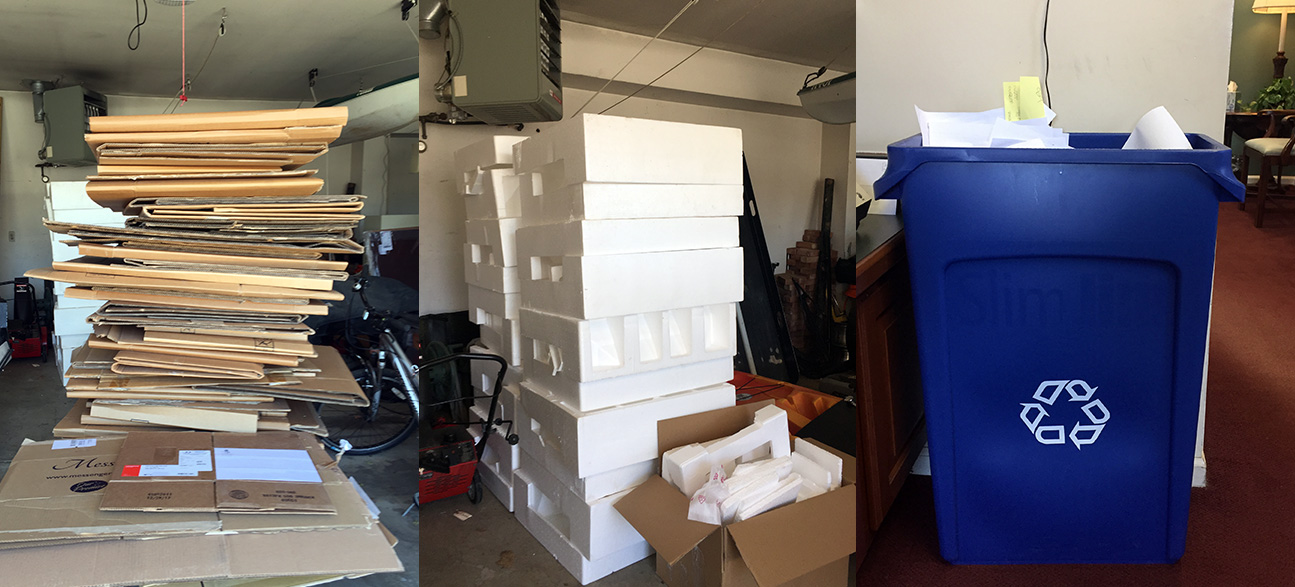 Nie Funeral Homes Recycling Program Brings New Life to Old Materials
Family owned and operated Nie Funeral Homes has taken their commitment to caring for the community to a new level by considering the environmental impact of their day-to-day operations. After taking an environmental science class at Washtenaw Community College last semester, Jake Nie, son of owner Dutch Nie, developed a newfound ambition to make environmentally sustainable choices in not only his personal life but also at his family's business. With that, he set out to implement a recycling program at Nie Funeral Homes. His family welcomed the idea with open arms, so he approached his environmental science professor, Dr. Edwards, for guidance and she connected him with us at Recycle Ann Arbor.
Fueled with great enthusiasm and overwhelming support from his family and co-workers, Jake was able to successfully integrate a recycling program at both locations in January. At the end of February, they had already recycled 793 pounds! The bulk of their recyclable material is from cardboard and Styrofoam used to ship caskets. They are also collecting common business recyclables through the use of single-stream bins around the offices. Beyond recycling, they are composting flowers and tissues. Leftover flowers are donated to local nursing homes as much as possible, but sometimes there is an excessive amount or they start to wilt before being able to be donated. Prior to the recycling program, their trash dumpsters filled up so quickly that they had to store excess in their garage until the dumpster was emptied. With recycling now in place, they have noticed only half of the dumpster is being filled before pick-up!
Since Nie Funeral Homes is outside of the City of Ann Arbor limits, they are unable to receive our curbside service. That did not deter them from recycling in the slightest. Throughout the month, Jake separates the recyclables and stores them in their garage until his trip to our Drop-Off Station (DOS). After his first trip to the DOS, Jake was very pleased with how "friendly and attentive" the staff was, which made the process very easy. On top of diverting waste from the landfill, Nie has taken a number of other steps to reduce their environmental footprint. In just one month they managed to coordinate with Norton Flowers to take back and reuse tri-pod flower stands, switch all of their paper towels to ones made with sugar cane and bamboo, order soap in bulk to refill individual containers, change every light bulb to LED, adjust thermostats for energy efficiency, and only turn on certain rooms' lights when necessary. For the future, they are considering adding solar panels to both locations and Jake hopes to build their own compost system for the flowers, tissues, and potential food waste.
The transformation that Nie has undergone in such a short amount of time is encouraging and serves as an excellent model for other businesses. In fact, Jake is hoping that setting this example in their business can help drive a recycling initiative in funeral homes across Michigan. Jake's advice for other businesses is to "Just do it! If you take a little bit of time to think about what you do on a daily basis, you can have a huge effect by implementing little changes." One of the most rewarding effects of the recent changes is how positively it has impacted the employees. Their Monday morning staff meetings now consist of a recycling update and everyone always looks forward to hearing about the progress. At the end of the month they play a "guess the weight" game, which the staff really loves. Some people have even started asking Jake questions about how to recycle better at home. Jake is inspired by "how fast something can catch on and how good it can make you feel." We are inspired, too, and look forward to continuing to help them in their waste reduction efforts.