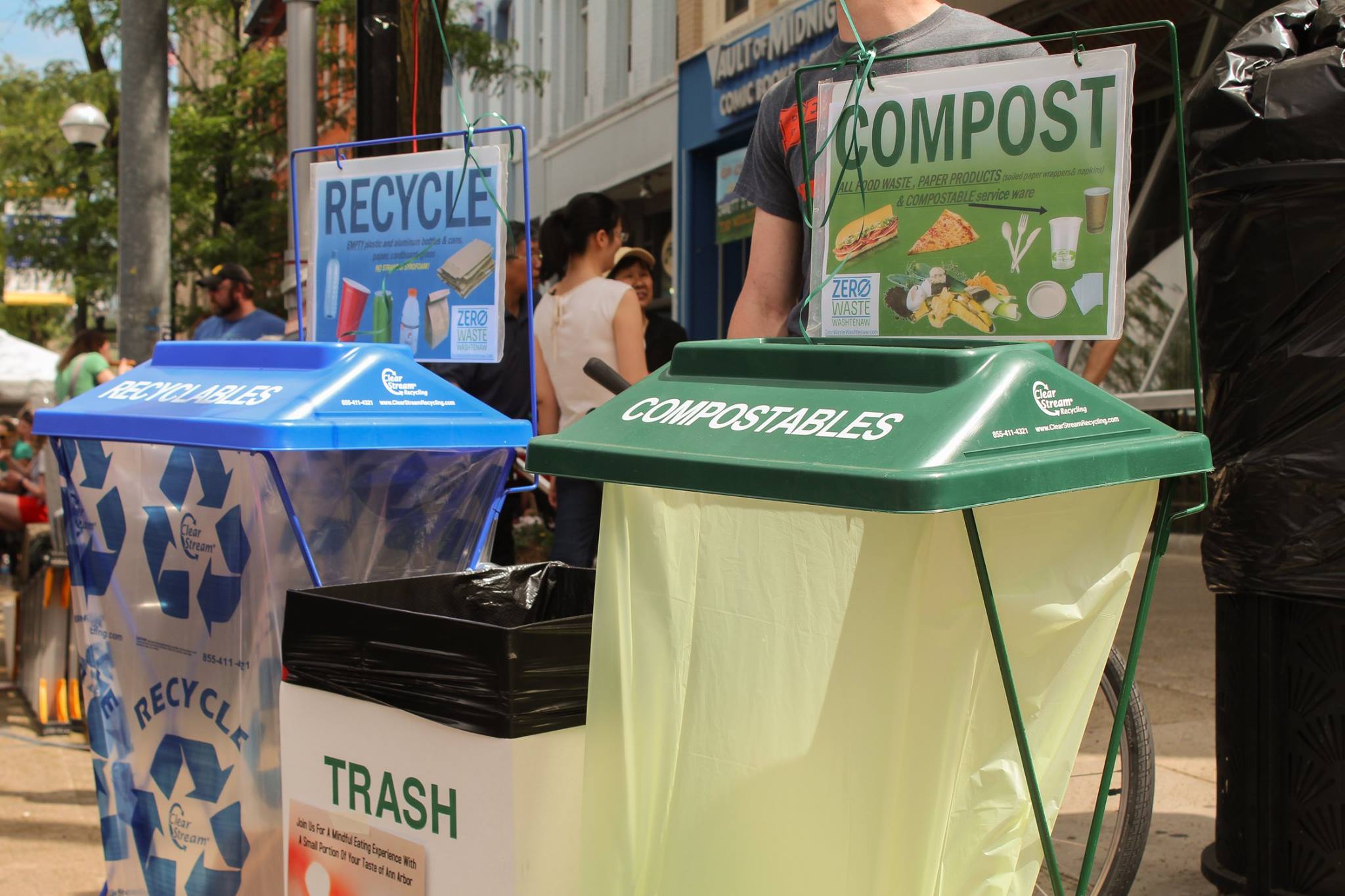 Zero Waste Washtenaw: Working with Community Events to Divert 6.4 Tons of Waste Since 2015
In May 2015, Recycle Ann Arbor was awarded a $19,500 "pollution prevention" grant from the State of Michigan Department of Environmental Quality (DEQ) to expand Zero Waste events throughout Washtenaw County. The grant partners were the Washtenaw County Office of the Water Resources Commissioner (Solid Waste Department) and Amcor Rigid Plastics.
Zero Waste events work toward maximizing materials composted, recycled, or reused while minimizing the overall trash (to landfill) produced. The Zero Waste International Alliance (ZWIA) qualifies "reaching zero waste" as achieving a diversion rate of 90% or greater. Though a good benchmark, we believe any amount of waste not going to the landfill is a success worth celebrating at Zero Waste events!
Although Recycle Ann Arbor had been hosting Zero Waste events since 2012, partnering with Washtenaw County Solid Waste allowed us to share resources including staff, supplies, and community connections to further expand our reach in Washtenaw County. The successful collaboration became known as "Zero Waste Washtenaw" which included new program branding and a website; www.zerowastewashtenaw.com.
While the grant funding ended in September 2017, the program momentum will continue thanks to the commitment of our grant partners, community event organizers, and dedicated program volunteers. Zero Waste Washtenaw exceeded its original purpose and achieved much in the two years of the grant. Some of the program highlights accomplished over the grant period are:
6.4 tons of waste was diverted from the landfill
Average diversion rate per event was 89% over 40 events
62,000 attendees were reached through community and private events
The largest event, "Taste of Ann Arbor," had 18,000 attendees
Amcor Rigid Plastics committed 50 volunteer hours to the program
Recycle Ann Arbor hired a Zero Waste Event Assistant to support the program
Community discussions began about creating a Zero Waste event ordinance for Ann Arbor
An attendee survey conducted at the 2017 Ann Arbor Earth Day Festival found 96% of those surveyed had a better understanding of "zero waste" after having attended the event
If you are interested in hosting your own Zero Waste event or volunteering for the program, please contact This email address is being protected from spambots. You need JavaScript enabled to view it. for more information