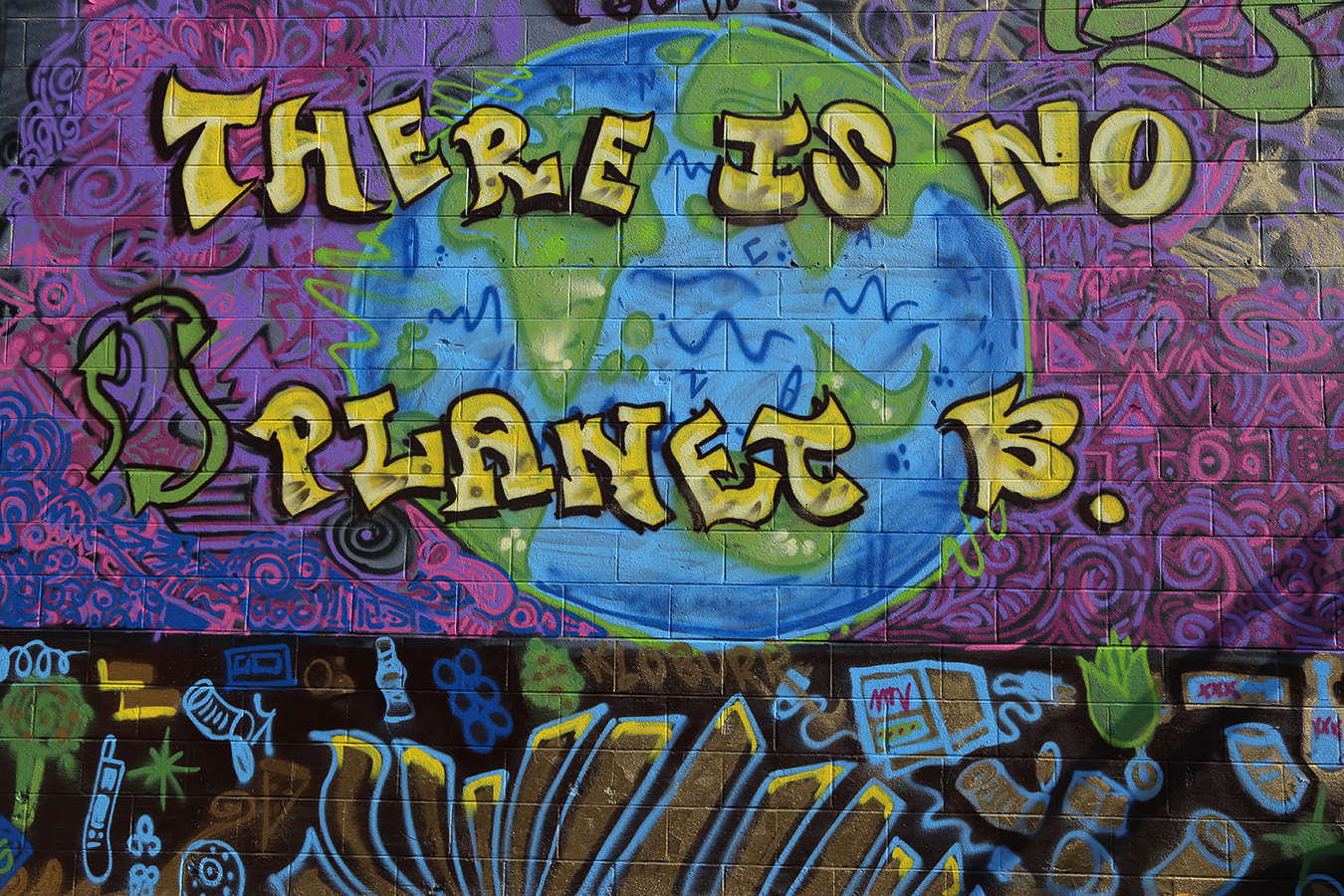 Art with an Important Message at the ReUse Center
Spray paint is the medium, 'There is no planet B' is the message.
In collaboration with the Neutral Zone, Recycle Ann Arbor has commissioned its second environmental art project at the ReUse Center. Casey Klobucar who led the 2016 Mural Project, returned to lead the 2017 project, this time with a friend and fellow student artist, Jakub Hann. Both Casey and Jakub are students at Skyline High School and participants of the Neutral Zone programs. Recycle Ann Arbor's mural project provides an excellent opportunity for student artists to realize their artistic potential, engage with their community and practice their craft. The two paintings stand 12 ft high by 17 ft wide; an impressive scale suitable for the large industrial building. The 2016 mural themed 'Reduce, Reuse, Recycle,' has been a common site for photos of Recycle Ann Arbor volunteers and customers alike. The 2017 mural is a stand alone success worth a trip to the ReUse Center to see. It depicts planet earth hovering over a pile of trash with the anthemic words 'There is No Planet B.' In other words, don't trash the planet, but instead reduce, reuse, recycle. Through its messaging, the mural allows Recycle Ann Arbor to elevate its mission in partnering with the community to help lessen its environmental impact.
While the mural was under construction, a passerby expressed concern that the painting's message 'There is no planet B' was political. We disagree with this sentiment but understand how politically charged the nation currently is. However, being good stewards of our planet through sustainable practices transcends politics. We all share this planet, regardless of our political leanings and beliefs and we will share in its ruin too. We do not have another planet to move to if we destroy ours. Therefore it is vital that we all pitch in and do what we can on a daily basis to live sustainably and to decrease our environmental impact through whatever means possible.
Recycle Ann Arbor has plans for future art projects with student artists. "We have a lot of blank wall space that could benefit from an artistic facelift," said Erica Bertram, Communications Director for Recycle Ann Arbor. "It's been a rewarding experience coordinating the murals with Casey and his fellow students. Art can be a powerful means of communication. In this instance, the message itself is a powerful reminder of why Recycle Ann Arbor first began its operations back in 1977. We only have one planet; we should take care of it."
The ReUse Center at 2420 S. Industrial Hwy, Ann Arbor, is open seven days a week, M-F 10 am to 6 pm, Sat 10 am to 5 pm & Sun 11 am to 3 pm. All proceeds from shopping and donating at the ReUse Center go to support zero waste programs.