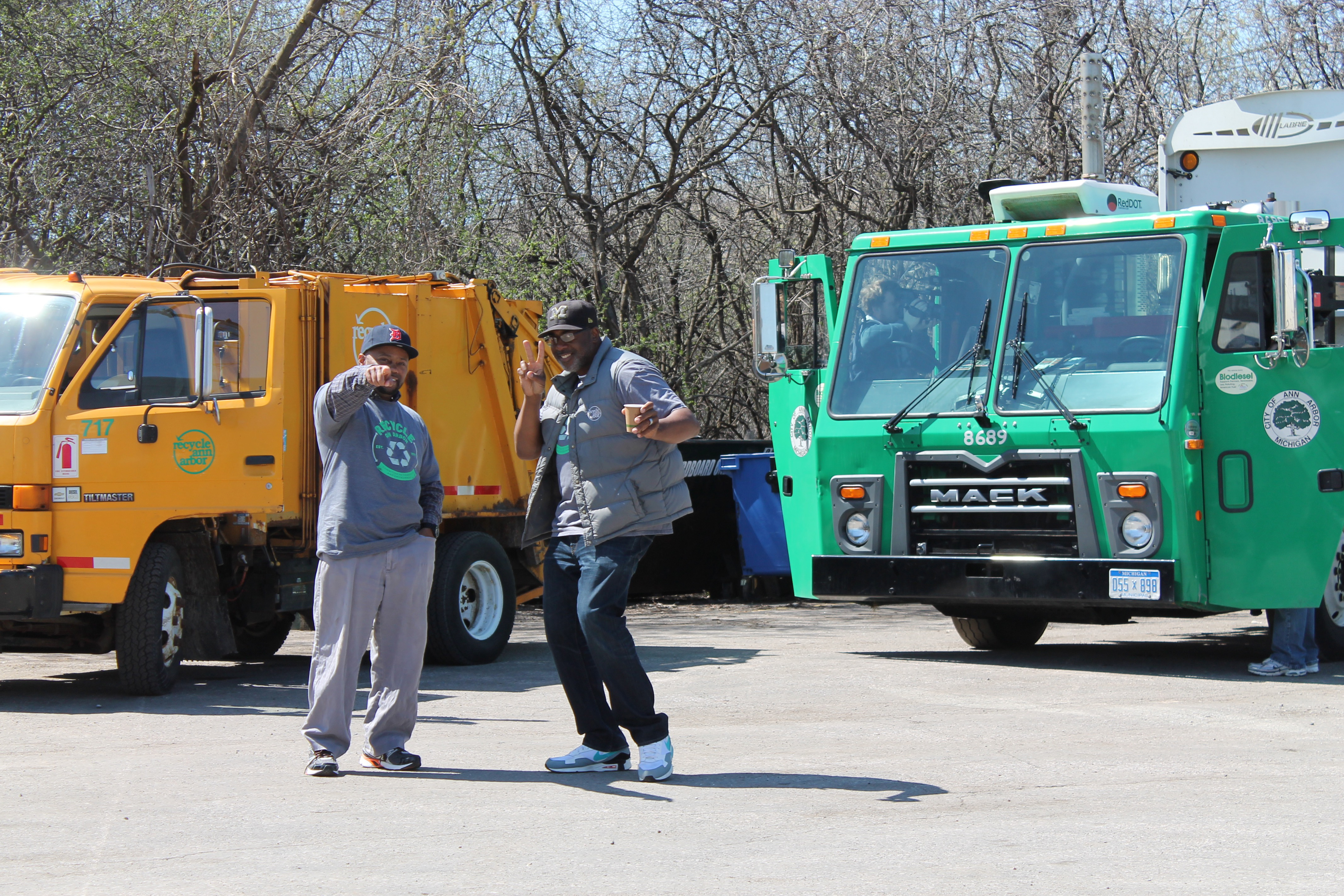 Recycle Ann Arbor Awarded Contract to Process Ann Arbor's Recyclables
On June 5th, after an 8-month-long bid process, the Ann Arbor City Council voted 11-0, unanimously approving a 1-to-2-year contract with Recycle Ann Arbor to process the City's recyclables.
After the Council vote, Ann Arbor Mayor Christopher Taylor declared, "I look forward to working with Recycle Ann Arbor and to making sure that we have a recycling program that will make all of Ann Arbor proud!"
The Recycle Ann Arbor proposal that garnered full support of the Ann Arbor City Council offers higher recovery rates, better material markets, lower environmental impacts and competitive pricing.
Recycle Ann Arbor has been collecting recyclables curbside and delivering them to Ann Arbor's sorting facility for decades. In July of 2016, the City unceremoniously fired ReCommunity, the longtime operator of the MRF (Materials Recovery Facility) and deemed the facility inoperable. Since then, the MRF has not been functioning as an actual sorting facility but rather a transfer station. Waste Management has been baling mixed recyclables and shipping them to their Akron, OH facility for processing. The practice of compacting mixed recyclables and baling before sorting has been criticized throughout the recycling industry as inefficient and damaging to the process. Some experts estimate that up to 33% of all recyclables handled that way end up in the landfill.
"Baling unsorted recyclables leads to the interlocking of items, making materials much harder to segregate at the MRF, which leads to far higher residuals at the end of the sorting lines, and at the end markets," according to Todd Bukowski, a packaging industry and sustainability expert with Arbor Packaging Consulting LLC. "Those materials then end up in landfills. For quality recycling, you want to bale materials after sorting, never before."
As a community based non-profit that's invested in Ann Arbor's recycling program, Recycle Ann Arbor felt compelled to devise a better solution for the handling of Ann Arbor's recyclables. RAA will be "loose-hauling" materials to facilities owned by Rumpke Waste and Recycling Services, avoiding the compaction and breakage of materials. In addition to 'loose-hauling' of single-stream materials, Recycle Ann Arbor will be sorting higher-value commercially collected cardboard and transporting it to Taylor, MI to be processed and marketed directly to paper mills, which will further reduce transportation costs and greenhouse gas emissions.
City Council voted in favor of Recycle Ann Arbor's proven performance record. As Councilperson Chip Smith put it, "they've been a solid community partner for over 30 years." Recycle Ann Arbor has provided drop-off recycling services since 1970, curbside recycling collection for the City since 1978, and numerous other recycling and waste reduction initiatives. Between 1981 and 1995, RAA also processed the City's recyclables.
While experts in the collection of recyclables, Recycle Ann Arbor hasn't had a hand in the processing of recyclables since the 90s. To bring in the necessary expertise, Recycle Ann Arbor partnered with Rumpke Waste and Recycling Services, a family-owned company operating state-of-the-art recycling facilities in the Midwest.
Processing recyclables along with collecting them will provide a better understanding of how the community is doing concerning recycling efficiency and accuracy. Through increased recycling education that focuses on critical areas of improvement, Recycle Ann Arbor plans to improve Ann Arbor's participation rate and decrease its contamination rate.
"Facilitating the sorting of recyclables in addition to the collection will provide us with a new level of recycling data previously unavailable to us," said Recycle Ann Arbor CEO Kirk Lignell. "We will be able to assess Ann Arbor's recycling material stream and provide valuable feedback to the community. As a mission-driven organization, we know that this will produce better recycling results."
This new solution for handling Ann Arbor's recyclables addresses a looming problem, glass. Due to high contamination and downturns in the commodities market, recovered glass hasn't been recycled back into the glass market for many years. Instead, it's used as landfill cover or road base. Rumpke Waste & Recycling Services operates a state-of-the-art glass processing plant in Dayton, Ohio, which will clean, sort, and upgrade Ann Arbor's materials so that the City's recycled glass will be processed and marketed for glass containers and fiberglass. Currently, glass makes up 12% of the City's single-stream recycling. The environmental impact of upgrading our glass is significant.
It's important to know what happens to your recyclables after you put them in a bin. Not all recycling is alike. It matters who runs your MRF. It matters who runs your recycling program. With Recycle Ann Arbor at the helm of the City's recycling program, we will lower greenhouse gas emissions, increase recycling, reduce residuals while providing higher revenues for recyclables and lower transportations costs. A step in the right direction for Ann Arbor's once-renown recycling program.
The new contract is set to go into effect on July 1st, 2017 through June 30th, 2018 and allows for two six-month extension options.