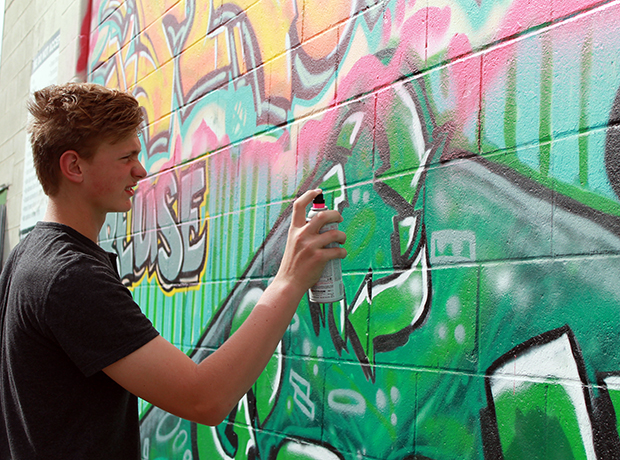 The ReUse Center Gets Graffitied, in a Good Way with a Good Message
Next time you visit the ReUse Center, check out the new urban art mural to the right of the entrance. Insider tip: It makes a great selfie backdrop.
Collaborating with the Neutral Zone, Recycle Ann Arbor recruited local student artists for a recycling-themed mural on the exterior on the ReUse Center. In search of up-and-coming artists who would be willing to create public art if wall space and art supplies were provided, the idea was originally brought to Mary Thiefels, Visual Arts Coordinator at the Neutral Zone and owner at TreeTown Murals. Thiefels had recently coordinated a team of teen artists to work with a Detroit artist on the mural at the Ann Arbor Art Center. Casey Klobucar, who had worked on the mural at Ann Arbor Center, took the lead designing and coordinating the team artists that worked on the mural at the ReUse Center. The team of artists who painted the mural consisted of Casey Klobucar, class of 2018 student at Skyline along with Sam Brown, class of 2019 at Washtenaw Community College, and Spencer Rech, class of 2018 at Community High School.
The urban art mural is an impressive 17 ft wide by 14 ft high featuring signature graffiti text and recycling imagery. It's bold, young, and colorful. Its message: Reduce, Reuse, Recycle, an age-old slogan that's still as relevant today as it was when it first originated.
"We hope to collaborate on a second mural with the Neutral Zone; offering Ann Arbor's up-and-coming artists blank wall space at the ReUse Center for their creative expression. Graffiti art is often frowned upon, it's art, nonetheless, and should have its place in our community. Graffiti art seemed particularly well suited to our industrial space down on S. Industrial Hwy. Challenging the graffiti artists to represent 'recycling' through their gritty urban style was intriguing and the results are a reflection of that." – Erica Bertram, Communications and Marketing Director at Recycle Ann Arbor and the Ecology Center.
"Providing exciting and productive public art opportunities for youth connects them to avenues of creativity, collaboration, leadership, and civic engagement. They are able to show off their individualism in an arena where many people can view and appreciate their dope skills and talents. This is a point of entry for young people to connect directly to their community, hopefully setting the stage for strong self-actualization and confidence."– Mary Thiefels, TreeTown Murals, Neutral Zone.
In the true spirit of the mural's message, 'Reduce, Reuse, Recycle', Recycle Ann Arbor will now be working with the Neutral Zone's program, Project GreeNZ, to help them set up environmentally sustainable practices within the culture of the Neutral Zone.
Visit the ReUse Center at 2420 S. Industrial M-F from 10am to 6pm, Sat. 10am to 5pm, Sun 11am to 3pm to see the mural up close.