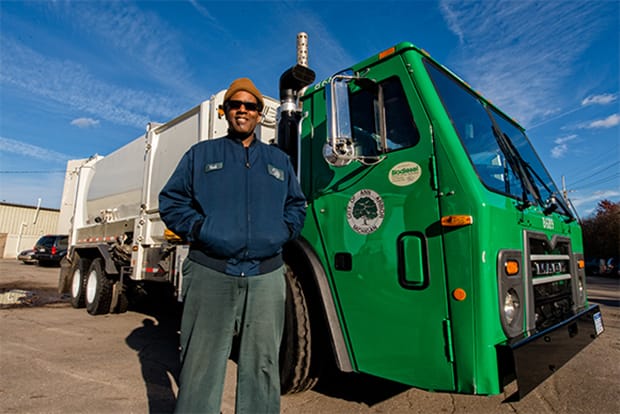 It's Business as Usual at Recycle Ann Arbor
On Thursday, July 7th at the Ann Arbor City Council meeting, the Ann Arbor City Council made a big announcement. Effective almost immediately, they terminated their 26-year long contract with ReCommunity to manage the Ann Arbor Material Recovery facility off Platt Rd. ReCommunity is a for-profit business that operates recycling sorting facilities across the country. They are not affiliated with Recycle Ann Arbor in any way. They do not pick up any recyclables in the Ann Arbor area, they merely sort those recyclables. A recent article on MLive regarding the closing of the MRF and its affect on Ann Arbor recycling.
What does this mean for Recycle Ann Arbor and your curbside recycling?
This decision to close the Material Recovery Facility has very little impact on the City of Ann Arbor's curbside recycling program that is operated and serviced by us, Recycle Ann Arbor. You should carry on recycling as you always have, filling your blue curbside single stream bin with papers, glass, boxboard, plastic, and accepted metals. Recycle Ann Arbor will still pick up your curbside bins on your usual scheduled day. There will be NO INTERRUPTION OF RECYCLING SERVICE .
Does this affect the Drop-Off Station at 2950 E. Ellsworth Rd.?
There will be no change to recycling services provided by Recycle Ann Arbor's Drop-Off Station located at 2950 East Ellsworth Rd. in Ann Arbor. The Drop-Off Station is operated by non-profit, Recycle Ann Arbor, and receives no government funding in order to operate. It is open to the public for a nominal entry fee of $3 plus additional charges for some items: Tues. and Thurs. from 8:30 am to 6:30 pm and Saturdays from 9 am to 6 pm year round. The Drop-Off Station is also open on Mondays from 8:30 am to 1:30 pm until August 29th.
What does this mean for the materials collected for recycling?
Don't worry. Your collected recyclables will be sorted and recycled as usual. THEY WILL NOT BE LANDFILLED. Instead, recyclables will be brought to the Western Washtenaw Recycling Authority's sorting facility on Werkner Rd. in Chelsea, MI. Currently, this is meant to be an interim solution, while the city determines what they'd like to see happen at the Ann Arbor Materials Recovery Facility. Stay tuned for more information. We will do our best to keep you informed as we learn more. But most importantly, keep recycling and we will keep picking up your recyclables.
Bottom-line:
We will simply take your recyclables to another sorting facility where they will still be recycled.