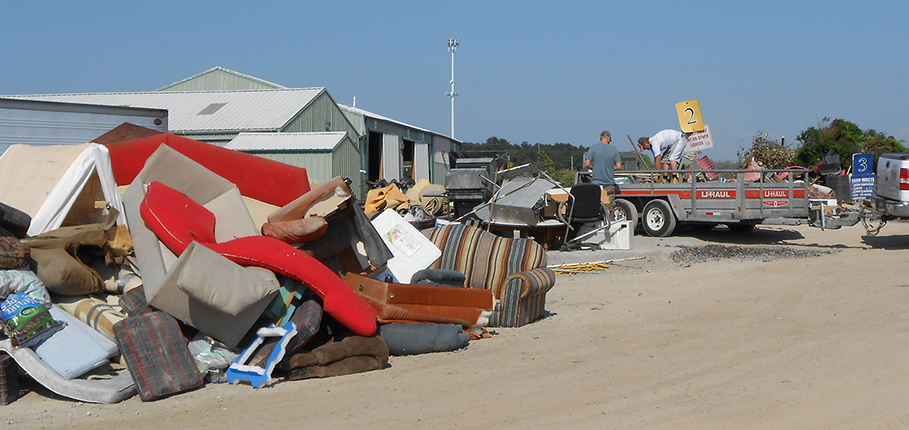 Recycling Tip for Better Results: Furniture
Keep that old furniture out of the landfill AND the curbside bin.
There are plenty of reasons why you might need to dispose of or replace furniture: moving out of Ann Arbor, upgrading your existing furniture choices, or replacing broken pieces that just can't be repaired.
In the City of Ann Arbor, furniture cannot be placed on the curbside or in apartment dumpster areas for "bulky waste" collection. Doing so could result in fines by the Community Standards Department. Luckily in Ann Arbor, there are plenty of options for local disposal or reuse of your furniture.
Why can't I put furniture pieces into the recycling bin?
Furniture (and broken off pieces of furniture) placed in the recycling bin contaminate the recycling stream which is meant to be clean, residue-free, and only made up of items for recycling curbside (paper, plastics, glass, etc.). Some furniture pieces (springs, wires, etc.) could also tangle up in the gears of recycling trucks and the sorting equipment at the Materials Recovery Facility (MRF). Although some furniture is made from a recycled post-consumer material, it cannot be processed in the residential curbside collection system.
If I can't put it into the recycling bin, where can it go?
Furniture (and broken off pieces of furniture) should not be put into (or placed next to) the curbside recycling or trash carts. Furniture that is in good condition can be reused or repurposed when donated to a proper facility, such as our ReUse Center at 2420 S. Industrial Hwy. There are additional thrift stores in town, such as the Ann Arbor PTO Thrift Shop and Salvation Army that also take good condition furniture. If the item of furniture is broken, or in very worn condition, our Drop-Off Station (DOS) at 2950 E. Ellsworth Rd. will take it for proper disposal. Disposal fees will apply per piece and type of furniture.
Stay tuned for April's "Recycling Tip for Better Results"- General Trash Items