Materials Recovery Facility
As of July 1st, 2017, Recycle Ann Arbor both collects Ann Arbor's recyclables curbside AND facilitates the sorting and processing of those materials. Ann Arbor's city-owned Material Recovery Facility (MRF) remains inoperable at this time. In the meantime, Recycle Ann Arbor uses the space at 4150 Platt Rd. to drop loads of collected recyclables and loose load the materials into large trailers to be hauled to Ohio and sorted at our partner Rumpke's state of the art sorting facility. One of the greatest benefits to hauling Ann Arbor's materials to Rumpke's facility in Ohio is improved glass recycling. For many years glass has been downgraded significantly and reused as landfill cover or road base. Through the use of Rumpke's glass recycling facility, Ann Arbor's glass is recycled back into glass containers and fiberglass. Recycling glass into higher markets has significant benefits to reducing carbon emissions as glass makes up roughly 15% of total recyclables and producing new glass is an energy-intensive process.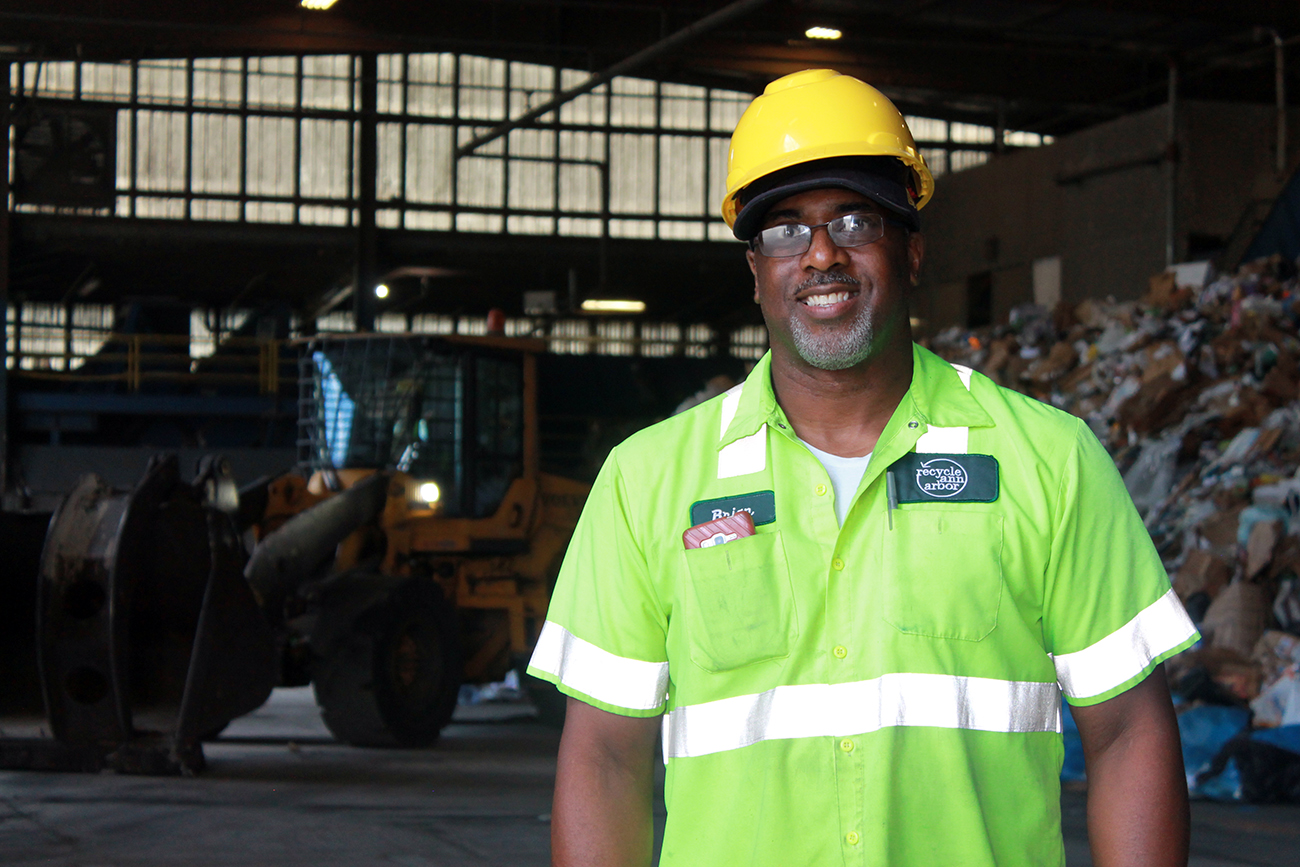 In addition to better glass recycling, Recycle Ann Arbor staff also separates cardboard from commercial dumpsters, bales the material and then ships it to Taylor, MI to be marketed directly to the paper mills.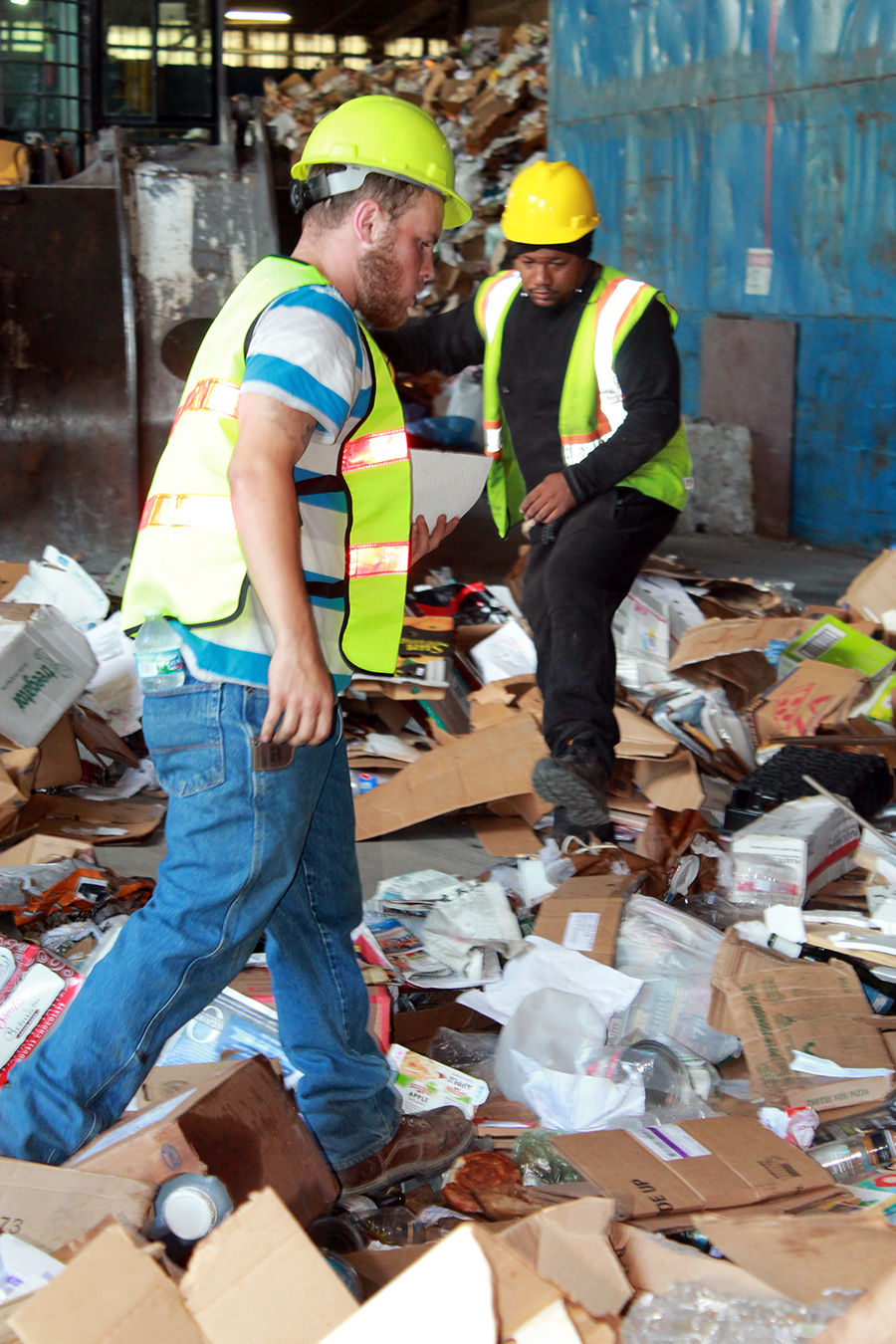 Facilitating the sorting of recyclables allows Recycle Ann Arbor to observe the quality of recyclables deposited into curbside bins. Ann Arbor is full of good earth stewards and savvy recyclers, but that doesn't mean we shouldn't work to do even better. Recycle Ann Arbor intends to use the ability to observe the most common contaminants that are winding up in curbside recycling bins to help educate the community about better recycling practices. 
Through quarterly audits, we will monitor the level of contaminants and ensure it is below national averages. We will also communicate the results of Ann Arbor's recycling efforts through the use of the EPAs WARM calculator. 
At this time, the Materials Recovery Facility is closed to the public. Currently, no tours or open houses are provided on site. Monthly recycling crafts will be hosted at Ann Arbor Public Libraries for the 2018-2019 season. 
Events will generally be held at the Ann Arbor District Library (AADL) Westgate Branch, located at 2503 Jackson Ave, Ann Arbor, MI. Events indicated with a star (*) will be held at the AADL Pittsfield Branch, located at 2359 Oak Valley Dr., Ann Arbor, MI.
Sept. 29th - Reducing Waste with ReUsable Sandwich Bags
Oct. 20th - Recycled Lantern Light for a Spooky Night*
Nov. 17th - Plastic Bag Pollution & Recycled T-Shirt Bags*
Dec. 8th - Recycled Gift Giving & Tile Decorations
Jan. 19th - Making Mini Musical Mechanisms
Feb. 9th - Making Paper & Recycled Hearts*
Mar. 9th - Plastics Recycling & Looking out for Nature
Apr. 13th - Compost Up Close & Planting Pots
May 4th - Magnetic Metal Mother's Day Gifts
June 1st - Summer Celebrations Without Styrofoam
Ann Arbor Recyclables Audited August 4th, 2017
Material Breakdown:
Cardboard #11 14.66%
Mixed Paper 32.99%
Sorted Residential (News) 17.96%
Steel Cans 1.37%
Aluminum Cans 0.25%
HDPE 1.25% 
PET 3.13%
#1 - #7 Plastic Mixed 1.82%
Aseptic/Tetra 0.10%
Misc. Scrap Metal 1.54%
Mixed Glass 15.12
Residue (Contaminants) 9.81%