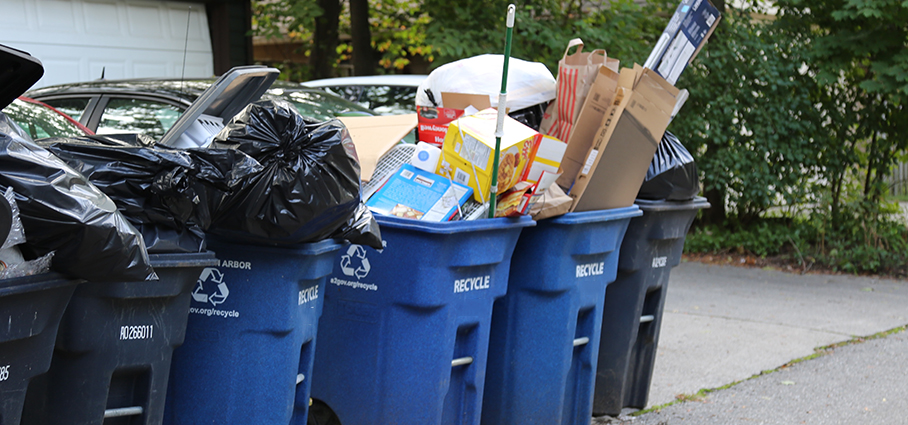 Recycling Tip for Better Results: General Trash Items
Some of the items we purchase are unfortunately destined for the landfill simply because there is no ability or option to recycle, reuse, or repurpose that item for various reasons- often due to what material(s) it is made from. Practicing a lifestyle in which you put "reduction" first will allow you to minimize the items you have to worry about disposing of in the first place!
A good waste mantra to follow is "when in doubt, throw it out." If you don't believe it's recyclable based on the Ann Arbor guidelines, you should put the item into the trash cart.
Common trash items we see making their way into the recycling stream include dirty diapers, black bags full of unknown items, chip bags, granola bar wrappers, coffee cups, gum, etc.
Why can't I put trash items into the recycling bin?
Items not listed on the City of Ann Arbor recycling guidelines as "acceptable" are considered trash (for the purposes of recycling) and should be placed into the designated trash carts or dumpsters. Trash items contaminate the recycling stream which is meant to be clean, residue-free, and only made up of items accepted for recycling curbside (paper, plastics, glass, etc). Soiled trash items can also potentially endanger the health and safety of staff during the processing and sorting of these unacceptable trash items.
If I can't put it into the recycling bin, where can it go?
You should place trash items into your City of Ann Arbor curbside trash cart/dumpster or bring large quantities of trash to our Drop-Off Station (DOS) located at 2950 E. Ellsworth Rd or our Recovery Yard located at 7891 Jackson Rd. You can also choose to look into TerraCycle for mail-back options that exist for creative recycling and repurposing of some common trash items, such as chip bags and plastic wrappers.
Stay tuned for May's "Recycling Tip for Better Results"- Wood (pallets and pieces)