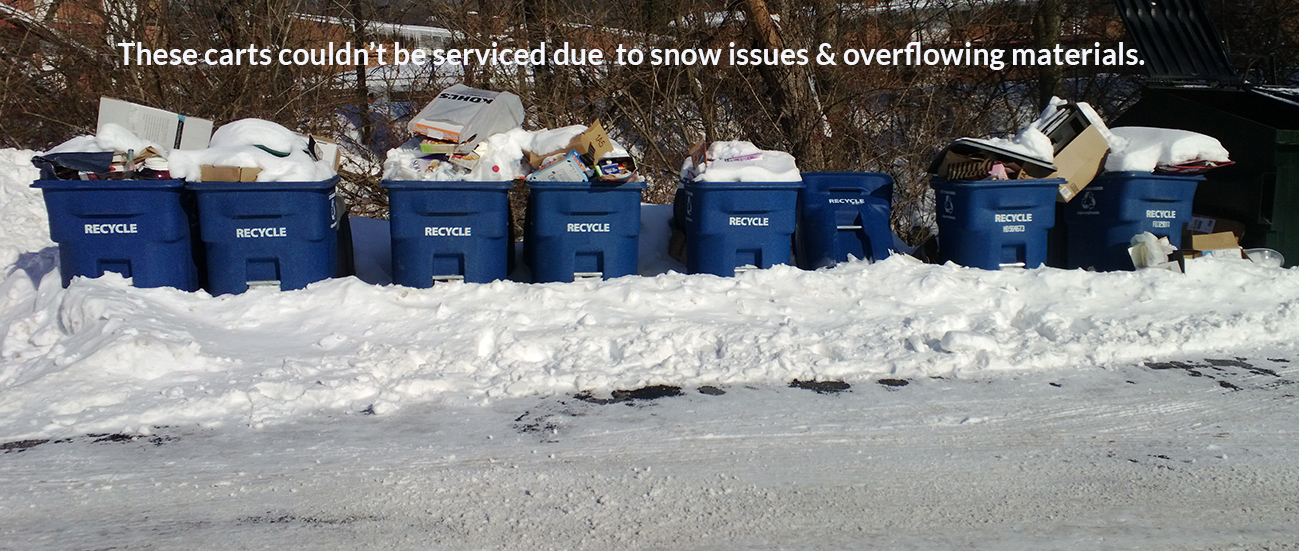 Winter Recycling Readiness 2017
Winter is coming... and we know that while you may be planning to spend some extra time indoors, you will still need to venture to the curb to set out your solid waste carts. Here are some tips to ensure that your recycling still gets picked up during inclement weather. These tips apply to residential and commercial solid waste areas.
1. All carts and dumpster areas must be clear of ice and snow.
2. Refrain from plowing or compacting snow into solid waste collection areas. All paths, driveways, and parking lots must be properly treated and cleared of snow and ice.
3. Be sure that the lid to your cart or dumpster remains closed at all times. This will help prevent material from freezing inside carts.
4. Refrain from placing any material in front of, next to, or on top of all solid waste containers. All items must be put into the containers for collection.
5. All curbside solid waste carts should be:
Put out the night before your service day (recommended), or on your designated service day by 7 am for residents and 6 am for businesses.
Place carts 3 ft apart from other carts and obstacles with the steel bar and lid facing the street.
Place carts in a uniform line; no staggering carts behind each other.
Place carts on a cleared street or driveway; or shovel a shelf (1 inch from ground level) into the street side of snow banks to ensure service of carts. Please refrain from placing carts on top of snow banks.
If you have additional questions or concerns regarding your recycling cart service please contact us at 734-662-6288 or email us at This email address is being protected from spambots. You need JavaScript enabled to view it..
If you have questions or concerns regarding your recycling/trash dumpsters, trash or compost cart collection, please contact the City of Ann Arbor at 734-994-2807 or email them at This email address is being protected from spambots. You need JavaScript enabled to view it.